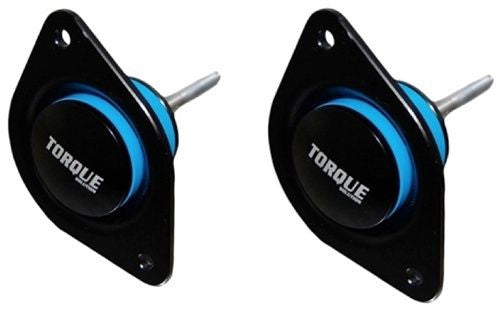 Torque Solution Performance Engine Motor Mount Kit - Porsche 996 / 977 / Turbo / GT2
Description:
Torque Solution Engine Mount Kit
Applications: Porsche  996TT/GT2/GT3/C2/C4/C4S & GT3 Cup 997TT/GT2/GT3 & RS/C2/C4 and GT3 Cup
Torque Solution Porsche N1 Engine Mounts are designed to limit the amount of Engine movement from side to side which throws off the balance of the car under load. The factory mounts allow the engine to move which gives the feeling of a sloppy drivetrain. The mounts will give the car a more direct feel and more precise driver input to the vehicle. You can expect a much better feel under Braking, Acceleration, & lateral G's. While typically most " Race Cars " use a SOLID MOUNT, this solution is less harsh and still maintains better control of the engine movement without the issue of Solid Mount Vibration. The next issue with Solid mounts is the transmission of noise from the chassis to the knock sensor on the engine which can result in a tuning nightmare. These mounts will not affect knock sensor like solid mounts do.. 
 
- Eliminates wheel hop / traction loss
- Improved 60fts / e.t's
- Made out of lightweight 6061-T6 billet aluminum
- Black anodized / Torque Solution Laser engraved
- 75A durometer bushings
- Life Time Warranty
- Made in USA