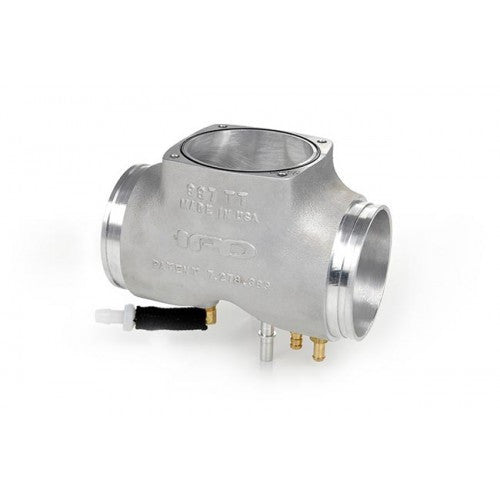 IPD Intake Plenum - Porsche 997.1 Turbo / GT2 (2007 - 2009)
Description:
The new IPD 997.1 GT2 Plenum is offered in one single 74mm version which utilizes the factory 74mm throttle body. The already explosive power of the 997.1 GT2 can be further increased with the new 997.1 GT2 IPD Intake Plenum. The patented IPD Plenum design works exceptionally well with all forced induction applications and the GT2 is no exception. Power and torque increases provided by the IPD plenum are impressive and stay well above all factory power curves from launch to redline. Max horsepower is over 30 at the wheels while the torque is slightly stronger coming in around 35 at the wheels. Maximum power increases take place in the midrange where it's most needed, most critical and most enjoyed.
The 997.1 GT2 Plenum delivers smooth and linear power with considerably quicker boost response creating a longer and more desirable power band. The GT2 Plenums deliver reliable performance for both street and motorsport applications enhancing the already visceral Porsche Turbo driving experience.
The 997.1 GT2 requires an "adaptation" period that can be fully realized with either a series of hard pulls on the dyno or a series of spirited driving sessions, which of course IPD recommends only be performed on a closed course circuit. Installation of all Turbo Plenums is highly recommended to be performed by qualified and trained Porsche technicians.
Turbo customers looking to increase engine power without pushing the motorsport envelope to redline would best benefit from the 74mm IPD Turbo Plenum.
This version of the 997 Turbo plenum utilizes the factory 74mm throttle body and delivers impressive performance gains for both stock and slightly modified Turbos with exhaust and software. Beyond these performance mods we recommend upgrading to the larger 82mm IPD Turbo Plenum.
The 74mm IPD Turbo Plenum is also designed to perform with the higher flowing IPD "Y" Pipe.