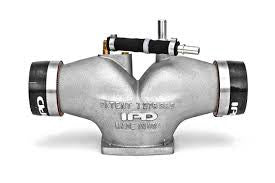 IPD Intake Plenum - Porsche 997.2 Turbo (2010 - 2012)
Description:
The incredible 997 Porsche Turbo is the most revolutionary and capable Porsche Turbo to ever come out of Germany. The already explosive power can be further increased with the new 997 Turbo IPD Intake Plenums.
The patented IPD Plenum design works exceptionally well with all forced induction applications and the 997 Turbo is no exception. Power and torque increases provided by the IPD plenum are impressive and stay over and above all factory power curves from launch to redline. Maximum power increases take place in the midrange where it's most needed and most critical.
Maximum horsepower gains range from 30 to 35 depending on vehicle condition and pre-existing mods. The 997 Turbo plenums deliver smooth and linear power with considerably quicker boost response creating a longer and more desirable power band. The Turbo plenums deliver reliable performance for both street and motorsport applications enhancing the already visceral Porsche Turbo driving experience.