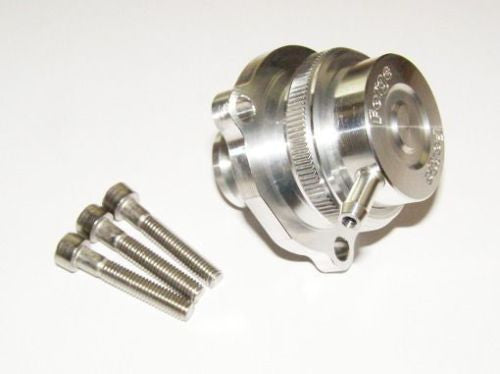 Forge Billet Diverter Valves - Porsche 997.1 Turbo / GT2 (2007 - 2009)
Description:
Forge Billet Diverter Valves for Porsche 997TT (pair)
Great quality, fit and performance. 

Following the resounding success of our direct replacement valves for other OEM applications utilizing Borg Warner triple-K series turbochargers, we have just completed development and testing of a pair of direct replacement bypass valves specific to the Porsche 997 twin turbo application.
These direct replacement units utilize full billet aluminum construction and a piston based design that has proved successful throughout our entire range of application specific and universal valve products. Viton brand high temp silicone o-ring are used for sealing of the piston and the valve cap, Mobil1 fully synthetic bearing grease for lubrication of the internals, and a proprietary spring rate is used to handle the widest possible range of boost pressures. 
The low-profile cap incorporates a knurled outer ring and a swiveling center section that allows for 360 rotation of the vacuum nipple for ease of fitment. This also allows for quick disassembly of the valve without requiring removal from the vehicle should servicing of the internals be required.