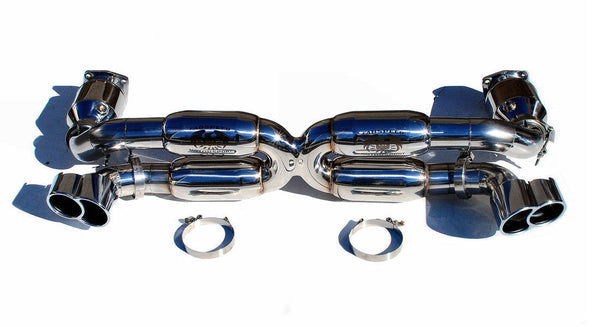 Fabsped Supersport 70mm X-Pipe Exhaust Upgrade - Porsche 996 Turbo / GT2 (2001 - 2005)
Description:
Fabspeed 996TT/GT2 Supersport 70mm X-Pipe Exhaust with X-50 Tips for  996TT and GT-2

Brand new and one of the best on the market for your Porsche Twin Turbo. Fabspeed exhausts feature a straight through design allowing for great gains in HP and TQ. This system is unique in that it features 70mm piping for more power and even includes custom fabbed X-50 tips to match the 70mm flow from end to end. The X-pipe design allowing for an that awesome sound. Gain about 40hp and 50tq plus depending on other modifications. This Fabspeed system is modular and all components are interchangeable or removable like the cats, tips and X-pipe. All parts and clamps are included and the exhaust is ready for install. Very well built and backed by their warranty.
Your car will pick up awesome power
 and response with this exhaust stock or modified and it will sound like a beast!