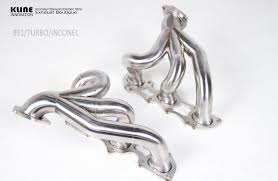 KLINE Innovations Equal Length Headers - Porsche 991 Turbo
Description:
THE SOUND
Capitalizing on the design innovations and success of our 996 and 997 range, the starting point for designing the 991turbo exhaust had been set high. Our trademark perfect x pipe geometry, harmonically tuned silencer geometry, Inconel 625, and our proprietary acoustic silencer packing materials result in a system that has become famous for that perfect sound. Zero drone, and a raised pitch raucous incendiary howl in higher rpms and hard throttle. The design is so perfect, that you can even run catless versions silently at cruising speeds, only unleashing that howl when you drive the car hard.
During development there were some clear evolutionary design steps that we could incorporate. The secondary tail pipe allowed us to integrate an effective gas overflow system. The concept was conceived at the fluid dynamic modelling stage, and effectively works to cut low rpm  noise, while allowing an effective increased cross section at higher rpms producing a more accentuated Jekyll and hyde personality, and slightly broader torque curves.
PERFORMANCE
Final Data on exact power figures is still being collated, but preliminary testing indicates a maximum power gain for the decat variant in the region from 35-45whp and 55-65nm torque
Available with a variety of HJS catalysts, in either 100 cell 200 cell, hdpe perforated foil
TECHNICAL SPECIFICATIONS
De-cat cross section 70mm OD specifically chosen for a balance of peak torque and power.
Silencer section, cross section 63mm OD
Catalysts come in a variety, from 108mm OD to 127mm OD
Manifold primaries, 41mm OD, chosen specifically for faster turbo spool
MATERIALS (TURBO BACK SYSTEMS)
Available in standard 304 grade stainless steel, weight 14kg 200cell cats, 12.5 with de-cat
Inconel 625 formula one grade material, weight 8kg
Titanium G2 silencer section is also available, weight comparable to Inconel
MANIFOLDS
Standard 304 grade stainless, weight 6kg total
Inconel 625, weight, 2.9kg total
Titanium unable to endure extreme heat
ASSEMBLY TIME
Man hours
Manifolds     18 hours
Manifold Inconel   34 hours
Cat back system  14 hours
Cat back Inconel  30 hours
Tails  12 hours
Total 44 hours (1 week)
Total Inconel 76 hours (1.7 weeks)